By Josh Cosford, Contributing Editor
Viton is actually a registered trademark of Chemours Company (previously of DuPont) and is a synthetic rubber used in seals. Viton is a family of fluoropolymer elastomers also identified as FKM, but the family offers various copolymers. Often green or brown, Viton finds itself used in various hydraulic applications requiring its resistance to heat as well as some chemicals.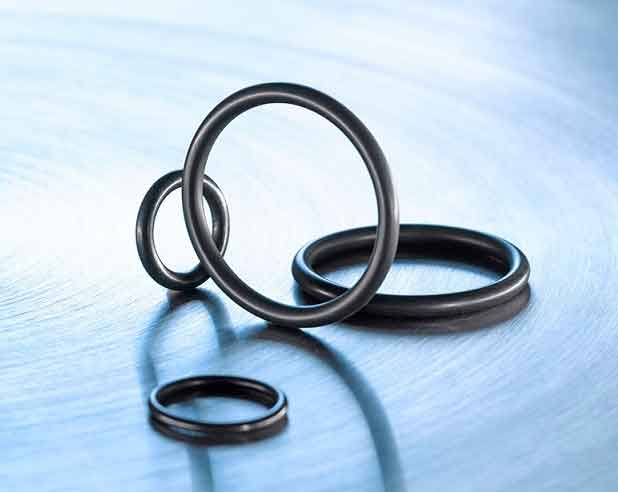 You may use Viton in any hydraulic application operating with aggressive fluids and/or high temperature. Although many of the chemicals Viton easily resists are not used in fluid power, the FKM compound offers protection against even the most aggressive synthetic fluid, such as phosphate ester.
Viton also maintains its integrity despite extreme heat, maintaining its properties well over 400°F. Occasionally, conditions warrant high heat and chemical resistance, such as with some aircraft hydraulic systems, which must resist auto-ignition when exposed to extreme heat.
Most Viton seals are limited in pressure capacity than other synthetic seals, such as polyurethane. The case rings true in dynamic applications, such as hydraulic cylinder piston lip seals, which may be limited to less than 2,000 psi in some cases. Dynamic applications are challenging, where both pressure and extrusion gaps will damage or nibble the seal very quickly. Static seals used in pumps or valves, however, are typically more reliable.
Also, many Viton elastomers are not suitable for hydraulic fluids primarily based on water, such as water-glycol or emulsions. With pressure above 2,000 psi, Viton may be satisfactory with water as static applications, but is not ideal for dynamic applications such as rotating shafts or hydraulic cylinder rod and piston seals.
Knowing your application temperature is critical when selecting Viton. It was never engineered for cold temperature applications, although because there are many versions of this polymer, some compositions offer excellent low-temperature performance. GLT Type Viton, for example, has an excellent temperature range from -35°F to 400°F.